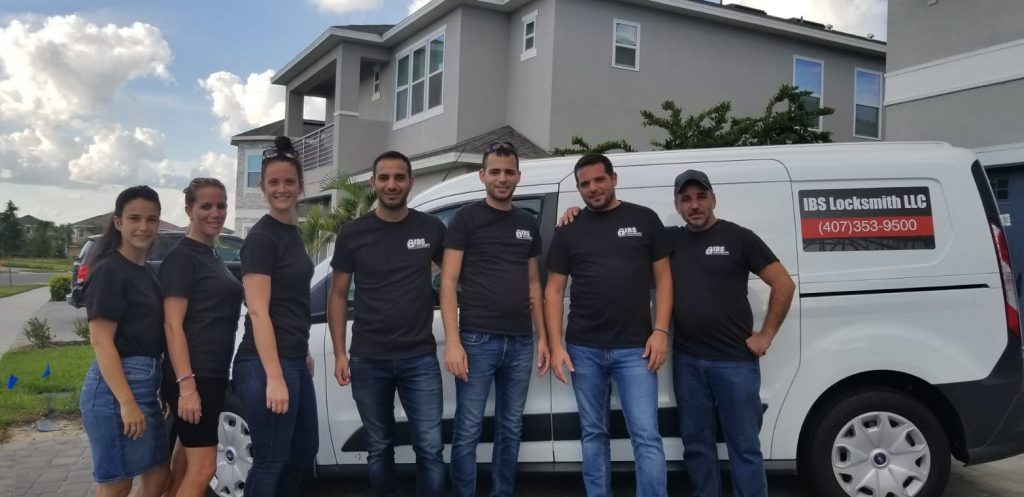 Locksmith Clearwater, FL for all your Residential Commercial & Automotive locksmith needs
IBS Locksmith Clearwater ,FL. Is a family owned and operated. proudly serving our clients with all their locksmith requirements. whether it is commercial residential, automotive and emergency locksmith services, friendly reliable and professional locksmith team. 
Residential Locksmith IN Clearwater
To be protected you would need to ensure that all entry and exit points in your place of residence which invariably would be your much loved home is well locked and secured. If it is security that you would be envisaging then you would need to get the best locksmiths to install the best locking systems and with the locking industry providing state of the locking devices it would cost you only a call to summon the best in the business, IBS Locksmiths and install the right locks to protect you and your loved ones. Hence being ready with the appropriate deterrents is your best option and it would also give you the peace of mind to rest in blissful sleep knowing that you and your loved ones are well protected. There is none who could provide you the best security solutions for your residence other the leader in home locking devices and the most experienced Locksmith in Clearwater who have been in the forefront protecting the community and that would be IBS Locksmiths the very friendly locking specialist, closest to you.
beware of locksmith scam
The locking industry spends millions of dollars in Research and Development (R&D), annually to keep up with the criminals who specialize in neutralizing all that the locking industry introduces. The locking industry needs to be a few steps ahead of the criminals if they are to protect you and your loved ones and the most sophisticated Locksmith Clearwater, and the leader in the city IBS Locksmiths are always fully apprised with the latest devices so that they could provide you with adequate security that you would need to have your home protected. In the locking industry there is never a second chance and you should have the right deterrents in place if you are to thwart the criminals because when they are aware that your home is well locked and protected they would not be foolish enough to attempt a burglary. IBS Locksmith Clearwater are well known in the industry as having the best response team in their 24 hour Locksmith emergency service which is the talk of the town as we have the most experienced personnel, state of the art equipment and specially designed vehicles to be at your beck and call when you need us. We back our boast with our deeds and have never failed our clientele and have ensured that whatever predicament they would have been in, our 24 hour Locksmith emergency service has extricated them.
Commercial Locksmith services in Clearwater
IBS Locksmiths have carried out and commissioned many state of the art security locking devices for the Federal, State Government and other commercial establishments and are recognized as one of the leaders and respected Locksmith in Clearwater over many years. Our reputation with these very important customers has been further cemented by the repeat orders that they have placed with us and the close cooperation that we have enlarged working with them. We strive to offer the latest in locking solutions for the government and commercial sector and we have closely worked with our principals who spend millions of dollars in Research and Development (R&D) to design locking devices that would suit specific requirements of our commercial partners. The confidence placed on us has never been taken granted by us but we have striven to uphold that business relationship by offering the best services we could to our optimum ability so that they remain with us as our loyal customers.
offering High security bump key  prove locks
In the locking industry especially in the commercial sector the requirements of our discerning clientele keep changing on a daily basis due to the parallel ingenuity of the criminals who are busy too finding ways to break open locking devices created to keep them out. With modern locking technology being developed, criminals too have upped their know how on tampering with locks which is evident with the rising incidences of burglary. With criminals using a new technique called "lock bumping", where they open conventional locks by inserting a key half way through, applying subtle rotational pressure and using a screwdriver or similar tool to give the lock a jolt, which lifts the spring loaded pins then returns them back to the original position. This does not leave any trace of being tampered which has created a major problem between owners and insurance companies, where the locks show no forcible entry into the premises.
securing your house against burglary 
We at IBS Locksmiths the leading Locksmith in Clearwater FL, are experienced to defeat the criminals by installing and maintaining the most sophisticated locking devices that criminals would be hard pressed to tamper with and this has put them in a dilemma. When they are aware that we installed new security locks in your premises they wouldn't  break in. We always strive to keep ourselves updated with the latest in locking devices that are introduced into the market and we ensure that our technical staff is adequately updated and capable of installing and advising our clients.
IBS Locksmith Clearwater will find the right locking devices to suit your requirements so that you remain always secure.
If you place your order with us we will carry out all works as per our written quotation, and to your utmost satisfaction and are proud that we have provided security solutions for many and command a very high reputation in the locking market with our 24 hour Locksmith emergency service standing tall above the rest.
OUR AUTO LOCKSMITH TEAM IN CLEARWATER CAN REPLACE YOUR CAR KEY WITHIN MINUTES. CALL (813) 566-0616