24-HOUR EMERGENCY LOCKSMITH SERVICES in orlando, fl
Locksmith Orlando IBS is a family owned and operated providing reliable and professional service near Orlando
 Are you currently Seeking a Reliable Locksmith In Orlando? depend on us for a peace of mind when you have lost your keys or have been locked out of your house in Orlando. All our technicians are licensed insured and bonded, available to provide you with professional locksmith services. Whether you are locked out of your car, apartment, or business, we are here for you. We offer locksmith services that range from re-keying of locks, and locks installation to car key replacement. 
Security locksmith company in Orlando, Fl
we proud to serve our clients with a wide variety of locksmith services. our technicians are skilled and trained on effective security, in order to gain access to your home and vehicle lockout, without damaging your property. The next time you have misplaced your car key in Orlando or you are locked out of your business, look to our locksmith Orlando team to help you solve your emergency lockout situation. Be it a car lockout if you have forgotten your keys inside the car or house lockout and you left your keys somewhere you can't remember or locks change as we provide lock installation services, car key replacement, and lock re-key. we can do it all!  
mobile locksmith orlando
IBS Locksmith has got mobile team working around the clock. Once you want to get access to your home or car again, you just need to contact us through 4073539500. Then we will be able to dispatch one of the mobile team to come to your place and provide you with the locksmith assistance that you need. This will help you to get the requirements catered without any hassle. We also ensure that the mobile team will come to your home within few minutes and provide you with a professional service. Due to this reason, you don't need to think twice before you pick up your phone and call the mobile locksmith team at IBS Locksmith. 
Expert Locksmith service In Orlando
You can depend on our expert locksmith Orlando team in any job that you need. If you are not in need of  emergency locksmith service in Orlando, but you want to get your locks changed by a commercial master locksmith, or lock re-key after moving in to a new apartment, you can contact IBS Locksmith at 4073539500. Our mobile commercial and auto  locksmith Orlando team are in a position to provide you with assistance to that as well. 
locksmith orlando near me
What will you do if you get into a locked out situation either out of your car or house? 
Obviously, the first thing to do is to call a locksmith. A locksmith have to be a professional, who can do all the expert work. When you are spending money you would want to get your work done by a professional, and in a reasonable price. IBS Locksmith based in Orlando and we can serve you anywhere in Orlando. So, next time you want to google locksmith near me you can surely find us the nearest in Orlando.
we will send you a professional locksmith who has been trained for all kinds of expert locksmith to assist you.
commercial LOCKSMITH SERVICES
This is not it, if you visit our commercial locksmith Orlando page you will get to know that we have been in this business for the past 6 years and have been able to provide the best of services to our Orlando customer, and now even extending it to other cities in Florida. we believe in quality and serving our customer with complete dedication. 
So we only hire the expert and professional staff who are certified for professional work. 
residential locksmith in orlando
Orlando locksmith service is available 24/7 to provide convenience to our customers. Locksmith Orlando team treats our customers like family and also provides you with the facility of a mobile locksmith in order to provide you with more ease and facility. Even if you are not in an emergency and you need a locksmith for general services we can do it for you. Our mobile locksmith team are ready anytime and can fix up all your issues professionally. 
best & fast locksmith services in orlando
Next time you need a locksmith for house or office we are a call away.
all you should do just call us and then within 30 minutes our expert will reach out to your location and fix up all your locks, you just have to sit back and relax. As we are a family owned business and have made plenty of happy customers up-till now we would like you to be our customer as well. Don't think anymore and either google locksmith near me to find us at www.ibslocksmith.com or call us to get the most efficient and professional locksmith services in Orlando, Florida today.
REKEY LOCKS AND LOCK INSTALLATION
If you have any questions regarding our services and you would like to learn more about changing  and re-key locks, give us a call at 407-353 9500. When you are in need of a mobile locksmith company in Orlando, you can simply contact us. We will be able to provide much needed assistance to you and help you overcome the frustration that you are going through. Once you are locked out of your home, car or business place, you must get in touch with a mobile locksmith company, which provides emergency assistance and support services. In such instances, you are encouraged to stay connected with us at IBS Locksmith. In the meantime, you also need to get in touch with a locksmith company that you can trust. That's where we will be able to assist you with.
Losing keys to home can be a great worry – more so, when the person is locked out and has no other spare key to
Read More »
AUTO LOCKSMITH SERVICES FOR YOUR AUTOMOBILE24/7 EMERGENCY LOCKSMITH SERVICE Residential services Commercial services Automotive services Emergency servicesCall Us: (407) 353-9500 AUTO LOCKSMITH SERVICES Locked out
Read More »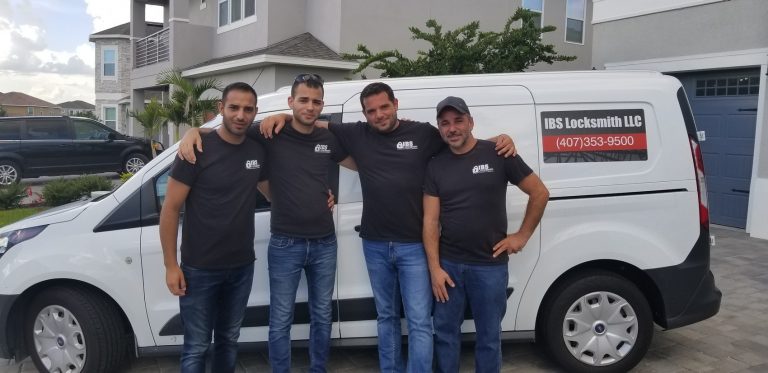 24 Hours Locksmith Orlando – IBS Locksmith IBS Locksmith Orlando is not the only locksmith service provider that you can find in Orlando, FL. You
Read More »